A new brand and design system that brings the many Council organisations together as one.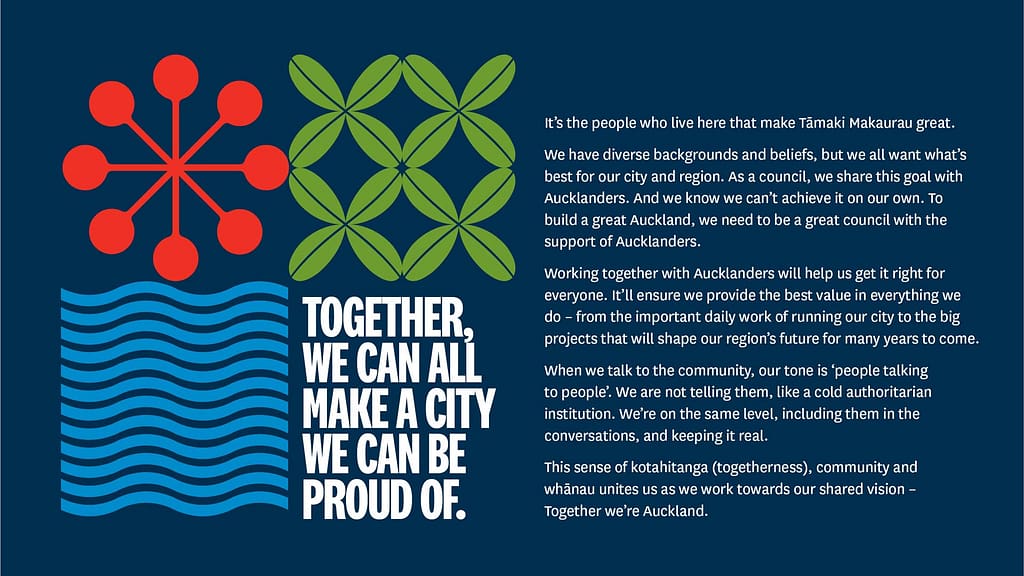 Auckland Councils brand was outdated and institutionalised. An organisation with decreasing levels of trust and a lack of Aucklanders understanding all the good things they do.
Auckland Council believe that, together, we can all make a city we can be proud of. From this kaupapa, kotahitanga (together, unity) became the core idea to bring through into our brand identity.
Research was undertaken and brand architecture and logo was simplified to just the symbol – dropping the colonial Auckland Council name and uniting over 100 council stakeholders – as well as 1 million Aucklanders – into one tribe.
The logo elements was then used to form our kotahitanga patterns, becoming a core graphic element to brings all council comms together, increase brand attribution to help Aucklanders realise all the good things we do.
The design system allowed for the huge amount of flexibility needed, with various of assets that can be assembled in a modular way across all aspects of council – from core stationary and signage to presentations, videos, websites and marketing campaigns.
Agency: Colenso BBDO
Account: Paul Courtney
Creative Director: Brent Courtney
Design Director: Brent Courtney
Writer: Tom Hennah